Salvation Army Conducts Damage Assessment After Oklahoma Earthquake
November 06, 2011 - 12:00 AM EDT
Janelle Mulanax
janelle_mulanax@uss.salvationarmy.org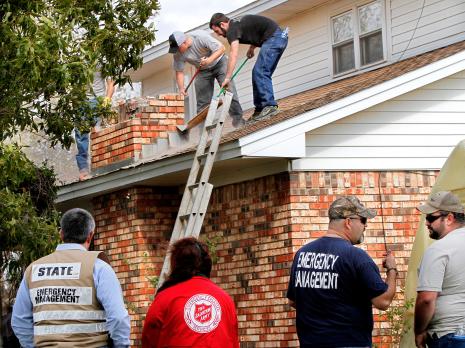 Oklahoma City, OK (November 6, 2011) – This weekend's earthquake activity began with a 4.7 magnitude earthquake which occurred at 2:15 a.m. Saturday, with the epicenter located in Lincoln County near Prague, OK. A record-breaking 5.6 magnitude earthquake followed Saturday night around 11 p.m. near Sparks, OK. The quake was felt as far away as Texas, Missouri, Kansas, Tennessee and Wisconsin. More than 40 aftershocks have also occurred in the Sparks, Prague, and Meeker areas. The largest aftershock was a magnitude 4.0 earthquake reported at 3:39 a.m. today, according to the U.S. Geological Survey.
The Oklahoma Geological Survey reports they are in the process of collecting data from the earthquakes which occurred along a known fault line. OKGS warns Oklahomans to anticipate still more aftershocks. Anyone living in a home already affected by the earthquakes should be aware that future aftershocks may cause additional damage.
Saturday night's earthquake breaks the former record dating back to 1952 when a 5.5 magnitude earthquake struck the El Reno area, USGS records show.
Today, The Salvation Army joined Lincoln County Emergency Management, Oklahoma Department of Emergency Management, and American Red Cross personnel to complete a preliminary damage assessment of the affected area. More than a dozen single family homes were visited that sustained minor damage. The earthquake caused cracks in sheetrock and brick façade damage as well as some chimney and roof damage. However, comprehensive structural assessments are still pending and more reports of damaged structures continue to be received through the local 9-1-1 centers. There were no mass care needs identified in the affected area. The Salvation Army remains in contact with partner organizations and is available to assist.
(Photo by Jim Beckel, The Oklahoman)
# # #
About the Salvation Army:
The Salvation Army, an evangelical part of the universal Christian church, has been supporting those in need in His name without discrimination since 1865. Nearly 33 million Americans receive assistance from The Salvation Army each year through the broadest array of social services that range from providing food for the hungry, relief for disaster victims, assistance for the disabled, outreach to the elderly and ill, clothing and shelter to the homeless and opportunities for underprivileged children. About 83 cents of every dollar raised is used to support those services in nearly 9,000 communities nationwide. For more information, go to www.salvationarmyusa.org.