Express Oil Change Partnering with The Salvation Army for Flood Relief
May 07, 2014 - 2:17 PM EDT
Katie Emer
katie_emer@uss.salvationarmy.org
(251) 767-3625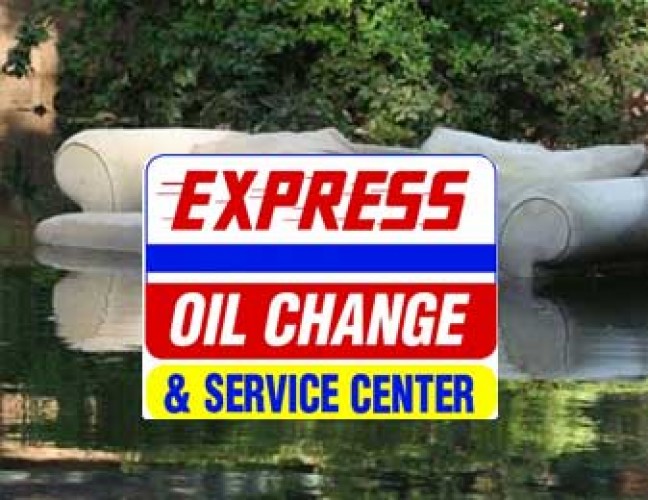 Pensacola, Fla. – The Salvation Army of Pensacola has been working around-the-clock providing shelter and relief to flood victims for more than a week, and now one local company is stepping in to help out. Express Oil Change is hosting a fundraiser for The Salvation Army this Saturday, May 10th, from 8am – 5pm, at all three of its Pensacola area locations.
For every customer that comes by for an oil change on Saturday, Express Oil Change will donate the entire price (up to the price of a conventional full-service oil change: $41.99) to The Salvation Army for their disaster relief efforts in Escambia & Santa Rosa Counties following the recent flood. 
"We really wanted to do something to help the flood victims in our area. This was a major event, and so many residents suffered loss. This is our way to give back – no tricks, no gimmicks, just help for those who need it," explained Bill Ross, Express Oil Change Franchisee. "I've always been impressed with the way The Salvation Army manages their money. We know they'll get the best bang for our buck."
Over the last week, The Salvation Army has provided 6,819 meals & snacks, 7,680 drinks, 1,691 cases of water (24 bottles each), 1,289 food boxes (enough to sustain a family for two days),1,207 clean-up kits, 437 nights of shelter, and more than $30,000 in financial, clothing and furniture assistance to flood victims in Escambia and Santa Rosa Counties.
"We are thrilled to have such a great community partner in our relief efforts. This fundraiser has the potential to raise thousands of dollars that will go to work right here in our community. We have seen the need first hand over the last week, and we will be here to help for the long haul," explained Captain Bob Cornett, Area Commander for The Salvation Army of Pensacola. "Our goal is to get 100 cars at each location on Saturday!"
Express Oil Change                     Express Oil Change                    Express Oil Change
6200 North 9th Avenue                1650 E. Nine Mile Road              4640 Hwy 90
Pensacola, FL 32504                   Pensacola, FL 32514                  Pace, FL 32571
850-477-0337                                850-478-0120                               850-736-8044
(Across from Hurricane Grill)      (Next to Village Inn)                      (Just west of Target)
# # #
The Salvation Army, an evangelical part of the universal Christian church established in London in 1865. Nearly 30 million Americans receive assistance from The Salvation Army each year through the broadest array of social services that range from providing food for the hungry, relief for disaster victims, assistance for the disabled, outreach to the elderly and ill, clothing and shelter to the homeless and opportunities for underprivileged children. 82 cents of every dollar The Salvation Army spends is used to support those services in 5,000 communities nationwide.
For more information: http://disaster.salvationarmyusa.org
EXPRESS OIL CHANGEŽ & Service Center is one of the leading automotive service providers in the South with over 200 locations across thirteen states. Throughout our 34 year history, our oil change process has been refined to give our customers the quickest oil change around while still providing the highest quality service and premium vehicle maintenance checks.