Salvation Army Continues Feeding Operations in Vilonia and Mayflower AR
May 01, 2014 - 1:37 AM EDT
Cynthia (Cindy) Fuller
cindy_fuller@uss.salvationarmy.org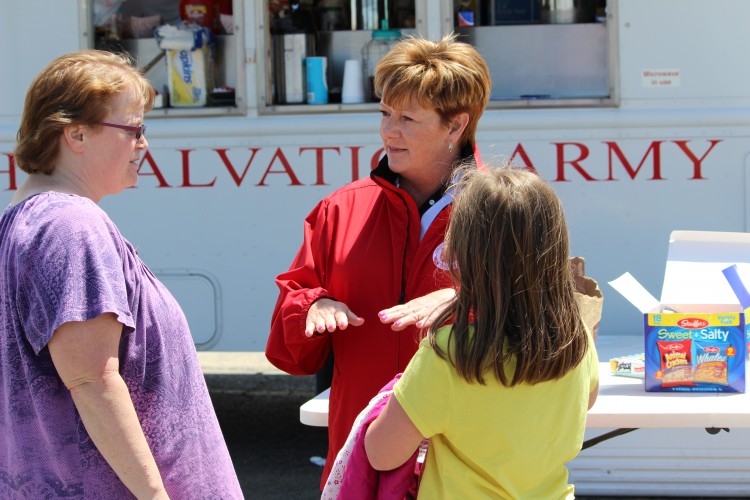 Conway, AR (May 1, 2014) – Mobile Feeding Units continue to provide food, hydration and emotional and spiritual care to those affected by the tornadoes that swept through Central Arkansas on Sunday evening.
National Weather Service officials announced today the tornado started West of Ferndale and ended in El Paso.  It was on the ground for 41.3 miles and lasted over an hour. This tornado was at maximum strength near Downtown Vilonia.  Information on the EF-4 rating states that its winds are estimated at 166-200 miles per hour.
Homes and businesses throughout Faulkner County and West Pulaski County suffered serious and at times, catastrophic damage.   Captain David Robinson, Corps Officer of The Conway Salvation Army states "Down each of these roads is a home or a neighborhood that is struggling to rebuild.  We want them to know that we are here for them for as long as we are needed."
On one stop, there was a home completely devastated and abandoned, and another with roof damage, downed trees, and destroyed vehicles.  Salvation Army feeding teams found a group of neighbors helping the residents' clear away brush and collect the family's personal items that littered the yard.  Captain Robinson embraced the family with prayer and gave the group a much needed meal.
As of this Wednesday night, The Salvation Army has provided 3,642 prepared meals, 4,065 drinks and 2,304 snacks.  Over 80 individuals/families have been provided emotional and spiritual care.
On Thursday, The Salvation Army will deploy five canteens to the following locations:
• West Little Rock – Kanis Command Post, 34106 Kanis Road
• 2 roving canteens servicing affected areas in Vilonia and 2 roving canteen serving affected area in Mayflower 
Volunteers: There are two Volunteer Reception Centers (VRCs) now open in Faulkner County:
Vilonia Primary School
#4 Bane Lane
Conway, AR
Phone:  501-796-2081
Mayflower High
10 Leslie King Drive
Mayflower, AR
Phone: 501-470-0388
Monetary donations continue to be the most critical need.
• Donors are encouraged to give online at www.SalvationArmyUSA.org or by calling 1-800-SAL-ARMY (1-800-725-2769).
• You can also text the word "STORM" to 80888 to make a $10 donation through your mobile phone; to confirm your gift, respond with the word "Yes."*
• https://donate.salvationarmyusa.org/uss/april2014
• Donations in the form of checks designated to Tornado Relief may also be mailed to:
The Salvation Army Disaster Relief
P.O. Box 1959
Atlanta, GA 30301
Updates will be provided as more information becomes available.  Please follow us on Twitter @SalArmyEDS, @SalArmyAOKEDS, @cindyfullerokc, @SalArmyAOK and Facebook/SalArmyAOK for additional information.
Contact:  Cindy Fuller, Mobile: 405/830/6549
E-mail: cindy_fuller@uss.salvationarmy.org
Office:  405/254/1156
About The Salvation Army
The Salvation Army, an evangelical part of the universal Christian church established in 1865, has been supporting those in need in His name without discrimination for 130 years in the United States. Nearly 30 million Americans receive assistance from The Salvation Army each year through the broadest array of social services that range from providing food for the hungry, relief for disaster victims, assistance for the disabled, outreach to the elderly and ill, clothing and shelter to the homeless and opportunities for underprivileged children. 82 cents of every dollar spent is used to carry out those services in 5,000 communities nationwide. For more information, go to www.salvationarmyusa.org.
*A one-time donation of $10 will be added to your mobile phone bill or deducted from your prepaid balance. Message and Data Rates May Apply. All charges are billed by and payable to your mobile service provider. Service is available on Verizon Wireless, AT&T, Sprint, and T-Mobile. All purchases must be authorized by account holder. By participating you certify that you are 18 yrs. or older and/or have parental permission. Donations are collected for the benefit of The Salvation Army by the Innogive Foundation and subject to the terms found at igfn.org/t. Privacy policy: igfn.org/p.Text STOP to 80888 to stop; Text HELP to 80888 for help.