The Salvation Army Provides Food and Care As Hostage Standoff Continues
February 01, 2013 - 10:50 AM EST
Mark Jones
mark_jones@uss.salvationarmy.org
(601) 278-2100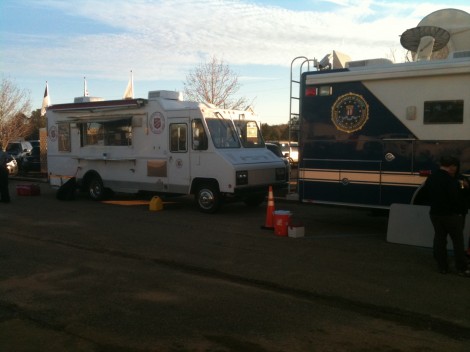 Ozark, Ala. (February 1, 2013) – As hundreds of law enforcement continue the vigilant efforts to bring the Alabama hostage standoff to an end, The Salvation Army remains present providing for their physical, emotional and spiritual needs.
Permeating through the Command Post is the smell of hot food presented buffet style for first responders to replenish themselves from the taxing efforts of hostage negotiation. Mixed into the crowds are trained emotional and spiritual care volunteers working to counsel the responders as they confront the uncertainty of what another day may bring.
The Salvation Army also continues to work with local ministers to provide for the family of the hostage, a five year old boy. Meals, drinks and pastoral care have been made available to the family.
On Thursday, Salvation Army volunteers from both Dale County and Dothan worked tirelessly to ensure that the community, law enforcement and the families affected knew that there were people who cared. Throughout the day over 1000 hot meals and over 3000 drinks were once again provided to the command post.
In a sign of a true community response, multiple grocery stores, restaurants and businesses have been supplying the resources necessary to sustain a prolonged response to the hostage crisis.
"This entire community has been impacted by this heinous act and The Salvation Army is committed to serving them with dignity and respect until this standoff prayerfully comes to a peaceful conclusion," stated Linda Furqueron of the Salvation Army.
Donations are always needed to offset the costs of services. Please visit www.disaster.salvationarmyusa.org or call 1-800-SAL-ARMY to donate. All donations for disaster services will be used for the designated purpose.  For additional updates please follow us at www.twitter.com/salarmyalm.
#  #  #
About The Salvation Army:
The Salvation Army, an evangelical part of the universal Christian church, has been supporting those in need in His name without discrimination since 1865. Nearly 33 million Americans receive assistance from The Salvation Army each year. The Salvation Army provides food for the hungry, relief for disaster victims, assistance for the disabled, and outreach to the elderly and ill, clothing, shelter and opportunities for underprivileged children. About 83 cents of every dollar raised is used to support those services in nearly 9,000 communities nationwide. For more information go to http://www.salvationarmyusa.org, call 1-800-SAL-ARMY, or send a check to your local Salvation Army earmarked for disaster relief.