New Jersey Salvation Army Serving After Hurricane Sandy
October 30, 2012 - 1:23 PM EDT
Bramwell Applin
bramwell.applin@use.salvationarmy.org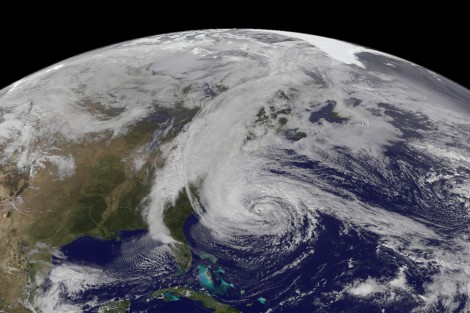 With Hurricane Sandy leaving a path of devastation through New Jersey, The Salvation Army continues to provide vital services to residents displaced by the storm.
To date The Salvation Army has responded to requests covering areas all over New Jersey including:
While serving meals at a shelter in Union Beach New Jersey, a Salvation Army canteen and a volunteer vehicle were flooded when waters rose unexpectedly. Despite the loss of these vehicles, Salvation Army volunteers continued to serve meals to both displaced residents and first responders at the police station which was the evacuation point.
Local senior citizens found refuge from Hurricane Sandy at The Salvation Army building in Red Bank New Jersey.
Approx 400 people are receiving feeding and hydration provided by The Salvation Army in Middlesex County.
The Salvation Army has a canteen en route to Bergen County to help provide services to those being evacuated due to the levy breach in Moonachie New Jersey.
In Atlantic County shelters are at capacity and The Salvation Army continues to serve meals and hydration to all individuals taking refuge, including a shelter for individuals with functional needs and special dietary restriction.
Cumberland County is in a state of emergency and The Salvation Army provided feeding to 175 individuals taking refuge in shelters.
The Salvation Army in Montclair New Jersey is currently operating a "charging" center in addition to providing meals. This center is open to all members of the community needing to charge their phones, computer, or other electronic devices.
It is through the generous donations of the people of New Jersey that services such as these can be provided not only in times of crisis, but year round.The Salvation Army asks people who want to help those affected by this disaster to visit www.salvationarmyusa.org or call 1-800-SAL-ARMY (1-800-725-2769).
Donors may also contribute $10 via their phone bill by text messaging the word STORM to 80888, and confirming the donation with the word, "Yes."*
Checks may be made out to The Salvation Army Disaster Services Center, PO BOX 1959 Atlanta, GA 30301. Please designate "2012 Hurricane Season" on all checks.
At this point, in-kind donations, such as used clothing and used furniture, are not being accepted for hurricane relief. However, these items are vital to supporting the day-to-day work of your local Salvation Army. Please consider giving these items to your local Salvation Army Family Store or dial 1-800-SA-TRUCK (1-800-728-7825).
For more information on The Salvation Army's preparation and response to Hurricane Sandy, please visit http://blog.salvationarmyusa.org/, www.facebook.com/salvationarmyusa or www.twitter.com/salvationarmyus.
###
About The Salvation Army
The Salvation Army, an evangelical part of the universal Christian church established in London in 1865, has been supporting those in need in His name without discrimination for more than 130 years in the United States. Nearly 30 million Americans receive assistance from The Salvation Army each year through the broadest array of social services that range from providing food for the hungry, relief for disaster victims, assistance for the disabled, outreach to the elderly and ill, clothing and shelter to the homeless and opportunities for underprivileged children. 82 cents of every dollar The Salvation Army spends is used to support those services in 5,000 communities nationwide. For more information, go to www.salvationarmyusa.org.
*A one-time donation of $10 will be added to your mobile phone bill or deducted from your prepaid balance. Message & Data Rates May Apply. All charges are billed by and payable to your mobile service provider. Service is available on Verizon Wireless, AT&T, Sprint and TMobile. By participating you certify that you agree to the terms and conditions, that you are 18 yrs. or older, or have parental permission, and have authorization from the account holder. Donations are collected for the benefit of The Salvation Army by the Innovative Giving Foundation and subject to the terms found at igfn.org/t. Privacy policy: igfn.org/p. Text STOP to 80888 to stop; Text HELP to 80888 for help.