The Salvation Army Offering Food, Comfort and Hope to Tornado Survivors
March 05, 2012 - 7:50 AM EST
Salvation Army, National Headquarters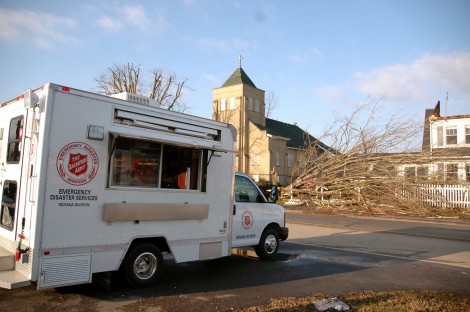 Alexandria, VA (March 4, 2012) – As communities assess damages and begin to rebuild in the wake of devastating tornadoes in the Midwest and Southern United States, Salvation Army Emergency Disaster Services (EDS) teams across the region are continuing to provide aid to impacted areas. With more severe weather forecasted for the region, including possible snow in some of the hardest-hit regions, The Salvation Army is on standby to respond as needed.
The Salvation Army completed its first full day of operations in Clark and Washington Counties, Ind., in response to the area's deadly tornadoes, and feeding operations will continue today. Salvation Army teams in Henryville, Ind., are serving 800 meals per day to tornado survivors and emergency personnel, and additional teams are prepared to serve 600 meals in the small town of Marysville, Ind., which was nearly completely destroyed by the tornadoes. In addition, EDS teams from New Albany, Ind., were deployed following several powerful tornadoes in the Southern Indiana region and have provided food for hundreds of survivors and emergency responders.
Salvation Army units in Decatur, Florence and Huntsville are continuing to provide aid to impacted areas of Alabama following Friday's severe weather outbreak. A mobile feeding unit is providing food and beverages in Athens, Ala., while two mobile feeding units are providing food, drinks, and spiritual and emotional care in Madison County.
In addition, a Salvation Army EDS team based in Ashland, Ky., is providing aid to affected areas of Morgan County and coordinating with local Emergency Management officials to minister to the needs of first responders and survivors. Salvation Army canteens, or mobile feeding units, are providing food and beverages in the area, and additional canteens from Danville, Ala., and Murfreesboro, Ten., are expected on-site to provide additional support.
A team of Salvation Army social workers in Harveyville, Kan. are also continuing to provide aid to tornado survivors to help with immediate needs such as food, clothing, medicine, shelter, bedding and baby products. Salvation Army EDS teams have provided meals, snacks and drinks to nearly 2,000 people in the area, and will continue to operate mass feeding operations through the weekend.
The Salvation Army also continues to provide needed assistance to those in the Branson, Mo. area that were affected by Wednesday's damaging storms. Hundreds of meals have been distributed through The Salvation Army's mobile feeding unit, and emotional and spiritual counseling is available to those in need.
Monetary donations to go directly toward relief efforts can be made online at www.SalvationArmyUSA.org, by calling 1-800-SAL-ARMY or by texting the word "STORM" to 80888 to make a $10 donation through your mobile phone.* For more information on The Salvation Army's continued response, please visit http://blog.salvationarmyusa.org/, www.facebook.com/salvationarmyusa or www.twitter.com/salvationarmyus.
###
About The Salvation Army
The Salvation Army, an evangelical part of the universal Christian church established in London in 1865, has been supporting those in need in His name without discrimination for more than 130 years in the United States. Nearly 30 million Americans receive assistance from The Salvation Army each year through the broadest array of social services that range from providing food for the hungry, relief for disaster victims, assistance for the disabled, outreach to the elderly and ill, clothing and shelter to the homeless and opportunities for underprivileged children. 82 cents of every dollar The Salvation Army spends is used to support those services in 5,000 communities nationwide. For more information, go to www.salvationarmyusa.org.
* A one‐time donation of $10 will be billed to your mobile phone bill. Messaging & data rates may apply. Donations are collected for The Salvation Army by mobilecause.com. Reply STOP to 80888 to stop. Reply HELP to 80888 for help. For terms, see www.igfn.org/t.