The Salvation Army Deploys Units to Areas in Critical Need
April 30, 2014 - 5:25 PM EDT
Kristin Miller
kristin_miller@uss.salvationarmy.org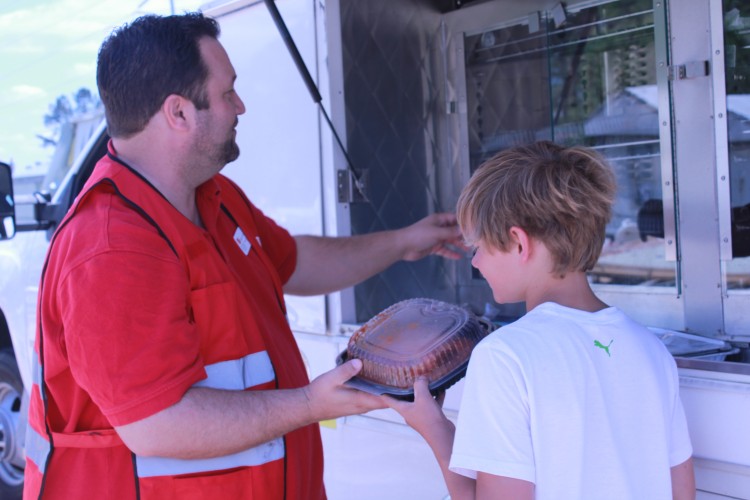 Jackson, MS (April 30, 2014) - Now that storms have passed, The Salvation Army has assessed specific needs in each area affected by the storms in Alabama and Louisiana. The Salvation Army Alabama-Louisiana-Mississippi Division has deployed 16 mobile feeding units in locations throughout Alabama and Mississippi. To date, The Salvation Army has provided 6,009 meals, 7,185 drinks, 18 canteens, 4,630 snacks, 128 comfort kids, and 135 people with spiritual/emotional support.
"Now that we know exactly how much damage occurred in each area affected in Alabama and Mississippi, we have called on multiple Salvation Army's in the division to use their resources to assist those affected." said Thad Hicks, Director of Emergency Disaster Services for the ALM Division. "That's one of the great things about The Salvation Army – We are stationed in cities all over the world and if we aren't in your exact area when disaster strikes there is a Salvation Army nearby that will be there to immediately assist any emergency situation whether the aftermath lasts a few days or years."
Mobile feeding units from Jackson, Miss. and New Orleans, Louis. are currently headed to assist those in Louisville, Miss. after an E4 tornado touched down there Monday evening. The Salvation Army will now be able to feed 3,000 individuals per day with the help of the mobile feeding units. Donations from all over the state have become coming in to help victims who have lost everything. Major Dorman of The Salvation Army in Tupelo reported that around 50 different organizations have pulled together to collect donations, including businesses as far away as Memphis, Tenn. 
Members of The Salvation Army Jackson Corps continue to serve hot lunches and dinners, snacks, cold water, and spiritual and emotional care to emergency responders and victims throughout Rankin County, Miss. The entire Jackson Metro Area has begun donation drives for The Salvation Army in order to help their fellow Mississippians rise from the devastation.
The assistance does not stop there. The Salvation Army in Florence, Ala. is in Tupelo, Miss. to offer supports. The Salvation Army in Hattiesburg, Miss. is working alongside the Laurel, Miss. unit to serve those in Sandersville, Miss. The mobile feeding unit from Meridian, Miss. is feeding residents and responders in Bessemer, Ala. and the mobile feeding unit from Gadsten, Ala. is in Etowah County, Ala. helping those in need throughout the county. In Columbus, Miss. The Salvation Army is serving meals from their building, as well as sending their canteen to remote sites around the area.
"We will continue "Doing The Most Good" until the job is done," said Hicks.
DONATIONS:
• Text "STORM" to 80888 and reply "yes" to donate $10
• By phone at 1-800-725-2769
• Online at https://donate.salvationarmyusa.org/uss/april 2014
###
The Salvation Army, an evangelical part of the universal Christian church established in London in 1865. Nearly 30 million Americans receive assistance from The Salvation Army each year through the broadest array of social services that range from providing food for the hungry, relief for disaster victims, assistance for the disabled, outreach to the elderly and ill, clothing and shelter to the homeless and opportunities for underprivileged children. 82 cents of every dollar The Salvation Army spends is used to support those services in 5,000 communities nationwide.
For more information: http://disaster.salvationarmyusa.org
Twitter: @salarmyALM | Facebook: facebook.com/salarmyALM
*A one-time donation of $10 will be added to your mobile phone bill or deducted from your prepaid balance. Message and Data Rates May Apply. All charges are billed by and payable to your mobile service provider. Service is available on Verizon Wireless, AT&T, Sprint, and T-Mobile. All purchases must be authorized by account holder. By participating you certify that you are 18 yrs. or older and/or have parental permission. Donations are collected for the benefit of The Salvation Army by the Innogive Foundation and subject to the terms found at igfn.org/t. Privacy policy: igfn.org/p.Text STOP to 80888 to stop; Text HELP to 80888 for help.