As Power Is Being Restored, Salvation Army Continues To Serve
February 15, 2014 - 10:08 PM EST
John Zanders
john_zanders@uss.salvationarmy.org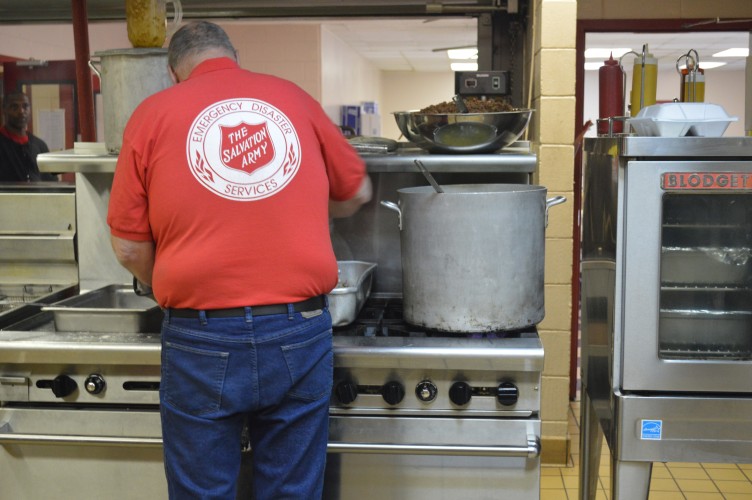 Augusta, GA (February 15, 2014) – Over the course of the day, The Salvation Army served over 500 meals to those in need in the Augusta-area. Local meal service will continue tomorrow. The organization is partnering with the Georgia Baptist Disaster Relief team to transport meals to the area shelters, Sheriff's outposts, and various volunteer groups that have arrived to help with recovery.
"It is an honor to work alongside so many other great community groups," says Major Tony Perez, Augusta Area Commander. "And it is our privilege to serve during this recovery period." It is possible that other areas in need will be added to the list as need is assessed. The organization is expecting to the number of people in need of meals to decrease dramatically over the next few days.
The Salvation Army is grateful for any monetary donations to help offset the cost of response during Winter Storm Pax. In Georgia, The Salvation Army has served a total of over 2,000 meals during the storm. Please donate at 1-800-SAL-ARMY, or www.salvationarmyusa.org. For more information on this disaster, and how you can help, please go to www.disaster.salvationarmyusa.org.
If you like to donate bottled water or food for those affected by the storm, you may do so at our Center of Hope (1384 Greene Street).
# # #
About The Salvation Army The Salvation Army, an evangelical part of the universal Christian church established in London in 1865, has been supporting those in need in His name without discrimination for 130 years in the United States. Nearly 30 million Americans receive assistance from The Salvation Army each year through the broadest array of social services that range from providing food for the hungry, relief for disaster victims, assistance for the disabled, outreach to the elderly and ill, clothing and shelter to the homeless and opportunities for underprivileged children. 82 cents of every dollar The Salvation Army spends is used to support those services in 5,000 communities nationwide. For more information, go to www.salvationarmyaugusta.org.
Prepared by: Beth Bargeron, Marketing and PR Director, The Salvation Army of the Greater Augusta Area
Phone: 706-421-3047
Email: Beth_Bargeron@uss.salvationarmy.org