The Salvation Army Responds to Wildfires in Central Washington
July 22, 2014 - 9:56 AM EDT
Ken Cavallero
ken.cavallero@usw.salvationarmy.org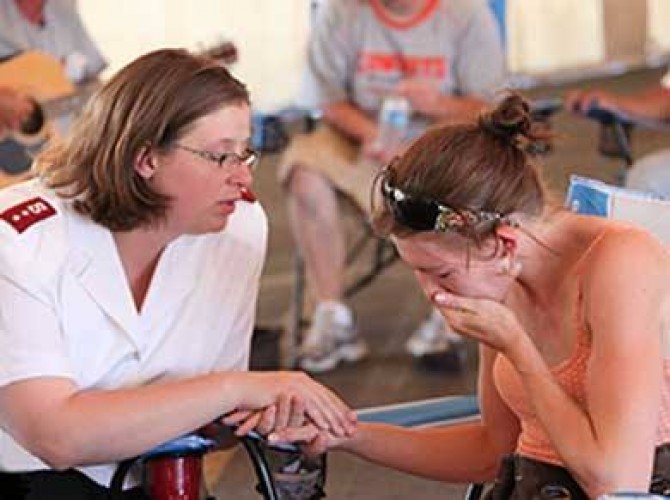 The Salvation Army is providing aid to families impacted by wildfires in Central Washington. Emergency Disaster Services have been working in Central Washington and the areas devastated by the wildfires. According to The Wenatchee World, as of today, 243,000 acres have been burned, and 150 homes destroyed. The Salvation Army is committed to helping the families impacted – we are there to provide immediate relief now, and will stay in the area for as long as needed. We will work with the community until it is restored, which may take years. 
As of Monday, July 21, 2014 at 8:30am, The Salvation Army is providing bottled water to firefighters. We are on standby to provide food and shelter if needed. The Army in Central WA is working with Washington Volunteer Organizations Active in Disaster (WAVOAD) and other non-profit organizations to help manage the flow of tangible donations.
The most important items needed are bottled water and financial donations. Partner agencies are setting up storefronts in Okanogan and Chelan. The Salvation Army will supply clothing racks and the Partner organizations will staff locations and rack clothing. Impacted families can come in and take what they need. 
The Salvation Army Thrift Store in Wenatchee is collecting bottled water and donations for the families impacted. · 1219 N Wenatchee Avenue (Mon-Fri 9am – 6pm; Sat 9am – 5pm)  Financial donations are being accepted in person at the store or at www.SalvationArmyNW.org.
In Spokane, The Army is participating in the "Q6 Cares" organized by KHQ-TV. Donations of food, water, clothing, and money are being collected at: o TV station located on South Adams Street in Spokane (today until 6:30pm) or at The Salvation Army administration building, 222 East Indiana Avenue (today until 5pm) 
Please visit our website for updated information about our work in the areas: www.SalvationArmyNW.org