Small Community Comes Together to Support The Salvation Army in Grafton, WV
November 02, 2012 - 1:16 PM EDT
Mechelle Henry
mechelle_henry@uss.salvationarmy.org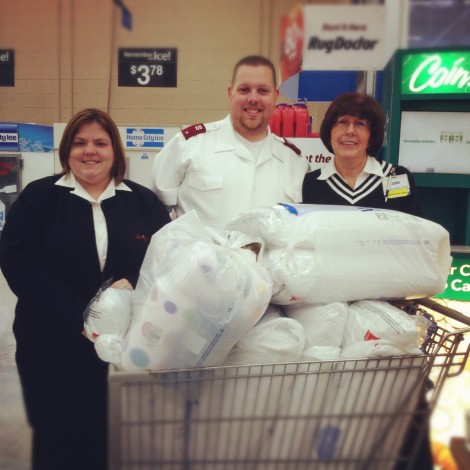 Grafton, WV (November 2, 2012) – As the cold winds and snow fall continues in the north central region of West Virginia, The Salvation Army in Grafton, reaches out to their community to help support their on-going efforts to provide hot meals to hundreds of people staying in two shelters within their counties.
"We definitely saw the need right away," said Lt. Benny Carringer, Salvation Army Officer in Grafton.  "For the past three days, we have been working with local fire departments, volunteers, community partners and emergency workers to provide food, water, snacks, and necessities to the people in need."
It was no surprise that once the news came out about the need for food and supplies for The Salvation Army, the people within the small community came to the rescue.  With the support of generous donors, The Salvation Army was able to feed residents and provide warm blankets, gloves and toboggans to those in need.  
Some of those donations came from small businesses in the area, as well as large food chains such as Domino's Pizza, KFC, and Wal-Mart.  Today, The Salvation Army purchased needed items for families staying in the shelters with the donation of gift cards from Wal-Mart (Pictured is Lt. Crystal Carringer, Lt. Benny Carringer, and Wal-Mart Manager, Joan).  "We're thankful for people and companies like Wal-Mart that give back to the community during a time of crisis," said Lt. Crystal Carringer, Corps Officer of The Salvation Army in Grafton.  "Our small community has big hearts and we're proud of the generosity we've seen after Hurricane Sandy hit our area."
As of today, The Salvation Army has feed over 850 people and provided hundreds of to-go boxes for workers and people without power.
"It's wonderful that local restaurants donated to-go boxes," said Lt. Crystal Carringer, Corps Officer of The Salvation Army in Grafton.  "Many people come walking in the shelter for food and are able to get it home still warm."
The Salvation Army in Weirton, WV, is now sending a mobile feeding canteen to help serve the emergency workers and residents on site in Barbour County.  The Salvation Army in Grafton is working with the city on where to station the canteen.
The Salvation Army's long-term disaster response and recovery operation is already underway.  Additional mobile canteen units will deploy to the areas of greatest need as damage is assessed in the coming days. Crews will provide food, hydration, clean-up kits as well as emotional and spiritual care.
Current Salvation Army activities in other impacted areas include:
In Beckley, WV:
The Salvation Army is serving meals, snacks and drinks to emergency crews, shelter residents, and walk-ins at the following locations:
o Trap Hill VFD
o Sophia Area VFD
o Ghendt VFD
The Salvation Army asks people who want to help those affected by this disaster to visit www.salvationarmyusa.org or call 1-800-SAL-ARMY (1-800-725-2769).  Donors may also contribute $10 via their phone bill by text messaging the word STORM to 80888, and confirming the donation with the word, "Yes."* At this point, in-kind donations, such as used clothing and used furniture, are not being accepted for hurricane relief. However, these items are vital to supporting the day-to-day work of your local Salvation Army. Please consider giving these items to your local Salvation Army Family Store or dial 1-800-SA-TRUCK (1-800-728-7825). Checks may be made out to The Salvation Army Disaster Services Center, PO BOX 1959 Atlanta, GA 30301. Please designate "2012 Hurricane Season" on all checks.
For more information on The Salvation Army's preparation and response to Hurricane Sandy, please visit http://blog.salvationarmyusa.org/, www.facebook.com/salvationarmyusa or www.twitter.com/salvationarmyus. 
###
About The Salvation Army
The Salvation Army, an evangelical part of the universal Christian church established in London in 1865, has been supporting those in need in His name without discrimination for more than 130 years in the United States. Nearly 30 million Americans receive assistance from The Salvation Army each year through the broadest array of social services that range from providing food for the hungry, relief for disaster victims, assistance for the disabled, outreach to the elderly and ill, clothing and shelter to the homeless and opportunities for underprivileged children. 82 cents of every dollar The Salvation Army spends is used to support those services in 5,000 communities nationwide. For more information, go to www.salvationarmyusa.org.
*A one-time donation of $10 will be added to your mobile phone bill or deducted from your prepaid balance. Message & Data Rates May Apply. All charges are billed by and payable to your mobile service provider. Service is available on Verizon Wireless, AT&T, Sprint and TMobile. By participating you certify that you agree to the terms and conditions, that you are 18 yrs. or older, or have parental permission, and have authorization from the account holder. Donations are collected for the benefit of The Salvation Army by the Innovative Giving Foundation and subject to the terms found at igfn.org/t. Privacy policy: igfn.org/p. Text STOP to 80888 to stop; Text HELP to 80888 for help.