The Salvation Army Serves Area Residents after Hurricane Arthur
July 04, 2014 - 9:38 AM EDT
Anjani Webb
anjani.webb@uss.salvationarmy.org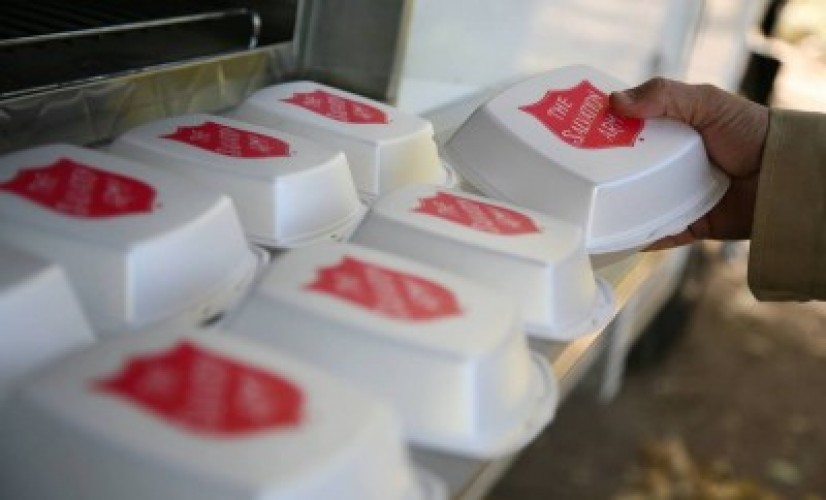 Charlotte, NC (July 4, 2014) – Hurricane Arthur made landfall late Thursday night at Shackleford Banks, N.C. as a Category 2 storm with 100 mph winds.  This is the first Category 2 storm to make landfall in the United States since Hurricane Ike in 2008. The eye of the hurricane has now cleared the North Carolina coast and, while conditions will improve across the state, officials continue to assess the storm's impacts.  
In the last 24 hours, The Salvation Army in Washington, N.C. prepared and provided meals at a shelter in Chocowinity, N.C. The service was in partnership with the American Red Cross. In addition, a request was made to mobilize a canteen (mobile feeding unit) to Ocracoke Island, N.C. if needed. The Salvation Army is continuing to monitor the situation and will be assessing Hurricane Arthur's impact in its communities.
"The Salvation Army is honored to serve in our community," said Lieutenant Bruce Rabon, commanding officer in Washington, N.C. "Whether someone is affected by a house fire, a tornado or a hurricane, we are here to help meet their short-term and long-term needs."
Those wanting to help with relief efforts can donate to The Salvation Army online, by mail, by phone, or by text. Further information is below:
Online:
https://donate.salvationarmyusa.org/uss/arthur
By Mail:
The Salvation Army Disaster Relief
P.O. BOX 1959
Atlanta, GA 30301
Please designate Hurricane Arthur on all checks.
By Phone:
1-800-SAL-ARMY
(1-800-725-2769)
By Text:
You can also text the word "STORM" to 80888 to make a $10 donation through your mobile phone; to confirm your gift, respond with the word "Yes."*
*A one-time donation of $10 will be added to your mobile phone bill or deducted from your prepaid balance. Message & Data Rates May Apply. All charges are billed by and payable to your mobile service provider. Service is available on Verizon Wireless, AT&T, Sprint, and TMobile. By participating you certify that you agree to the terms and conditions, that you are 18 yrs or older, or have parental permission, and have authorization from the account holder. Donations are collected for the benefit of The Salvation Army by the Innovative Giving Foundation and subject to the terms found at igfn.org/t. Privacy policy: igfn.org/p. Text STOP to 80888 to stop; Text HELP to 80888 for help."
For The Salvation Army's latest emergency disaster services news, please visit disaster.salvationarmyusa.org or follow its social feed on Twitter at @salarmyeds.