The Salvation Army Responds to Thousands Stranded on Outerbanks
August 29, 2011 - 3:38 PM EDT
Ashley Delamar
ashley_delamar@uss.salvationarmy.org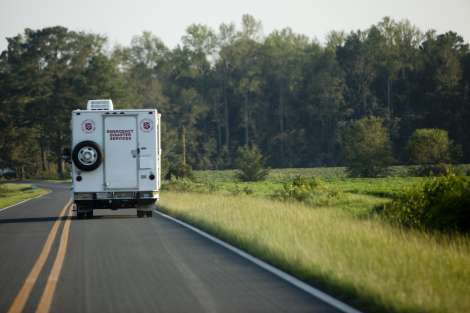 Greenville, NC (August 29, 2011)– In the second full day since Hurricane Irene made landfall at Cape Lookout NC and slowly moved north up the Outerbanks, The Salvation Army has 37 mobile feeding response teams serving throughout eastern and coastal NC.
From its Response and Operations Center in Greenville NC, The Salvation Army is working to respond to urgent request for service. Presently, The Salvation Army is coordinating an increased response to the Outerbanks where reports indicate the island has been breached in 4 areas and 2,400 people remain stranded. The Salvation Army is approaching the barrier islands from the south via ferry service and from the north utilizing bridges along the northern Outerbanks. Responding are Salvation Army mobile feeding canteen teams from the SC commands of Charleston, Florence and Georgetown.
As power remains out for an estimated 350,000 homes, a Salvation Army satellite communications team from Florida that staged early in Charlotte has now been deployed to Bayboro for communications support of our response teams serving in the Outerbanks. A NC based Salvation Army satellite communications trailer is currently in use at its Response and Operations Center in Greenville.
Major Willis Howell, Divisional Command for The Salvation Army of North and South Carolina, states "Many have returned to the normalcy of everyday life, but The Salvation Army continues to deploy service teams to meet urgent needs. At this very moment we have mobilized feeding teams to serve a reported 2,400 people stranded on the Outerbanks. There remains great need throughout the Carolinas and The Salvation Army intends to search until all have been met."
Further north, The Salvation Army has 12 mobile feeding canteens serving meals and providing emotional and spiritual assistance to people in the Hampton Roads area of VA. Thus far, the Hampton Roads Salvation Army has provided 2,345 meals, shelter to over 270 individuals and prayed with 140. The response throughout NC and VA is being supported by 5 mobile feeding kitchen canteens from GA and 2 from the Salvation Army's united commands of Alabama, Louisiana, and Mississippi. Salvation Army feeding units from Georgia are serving in Greenville, New Bern and Washington NC.
Relief efforts will continue throughout the impacted region. Salvation Army officers and staff will continue to focus on immediate needs of providing food, hydration, and emotional and spiritual care to impacted individuals and families.
Through Sunday, August 29, The Salvation Army has served nearly 30,000 meals, snacks and drinks. In North Carolina, The Salvation Army has prepared to feed 90,000 individuals. The Hurricane Irene command center for the coordination of Operations and Response is located at 2718 South Memorial Drive in Greenville NC (no public services provided at this address).
Salvation Army mobile feeding units are currently positioned in the following areas:
Elizabeth City, NC (Home Canteen) Support mobile feeding units from Greensboro, Baton Rouge LA, Columbus MS
Greenville, NC (Home Canteen) Support mobile feeding units from Charlotte, Atlanta GA
Goldsboro, NC(Home Canteen) Support mobile feeding units from Jackson MS
Jacksonville, NC (Home Canteen) Support mobile feeding units from SumterSC
Kinston, NC (Home Canteen) Support mobile feeding units from ColumbiaSC
Morehead City, NC (Home Canteen) Support mobile feeding units from Waynesville, Winston Salem, Fayetteville, Lafayette LA, Conway SC
New Bern, NC (Home Canteen) Support mobile feeding units from BeaufortSC, VidaliaGA, Dublin GA
Rocky Mount, NC (Home Canteen) Support mobile feeding units from AndersonSC, Raleigh
Washington, NC (Home Canteen) Support mobile feeding units from GreenvilleSC, GainesvilleGA, Atlanta GA, New Orleans LA, Sanford FL, St. Petersburg, FL
Wilmington, NC(Home Canteen)
Outerbanks, NC: Served by mobile feeding units from Charleston SC, Florence SC, Georgetown SC
The best way to help survivors and relief workers is to make a financial contribution. Monetary donations allow disaster responders to immediately meet the specific needs of disaster survivors.
The Salvation Army asks people who want to help those affected by Hurricane Ireneto visit www.salvationarmycarolinas.orgor call 1-800-SAL-ARMY (1-800-725-2769). Donors may also contribute $10 via their phone bill by text messaging the word STORM to 80888, and confirming the donation with the word, "Yes." Checks may be made out to The Salvation Army Disaster Relief,PO BOX 1959 Atlanta, GA 30301. Please designate Hurricane 2011 on all checks.
A $10 donation feeds a disaster survivor for one day
A $30 donation provides one food box, containing staple foods for a family of four, or one household cleanup kit, containing brooms, mops, buckets and other cleaning supplies
A $100 donation can serve snacks and drinks for 125 survivors and emergency personnel at the scene of a disaster
A $250 donation can provide one hot meal to 100 people or keep a hydration station operational for 24 hours
A $500 donation keeps a Salvation Army canteen (mobile feeding unit) fully operational for one day
At this point, in-kind donations are not being accepted. Used clothing and used furniture are seldom required during an incident. However, these gifts are vitally important in supporting the day-to-day work of your local Salvation Army. Please consider giving these items to your local Salvation Army Family Store or dial 1-800-SA-TRUCK (1-800-728-7825).
For the latest emergency disaster services news, please visit www.salvationarmycarolinas.org,
www.disaster.salvationarmyusa.organd follow the EDS team on Twitter @SalArmyEDS and @tsacarolinas and YouTube channel SalArmyEDS.
# # #
About The Salvation Army
The Salvation Army, an evangelical part of the universal Christian church established in London in 1865, has been supporting those in need in His name without discrimination for more than 130 years in the United States. Nearly 30 million Americans receive assistance from The Salvation Army each year through the broadest array of social services that range from providing food for the hungry, relief for disaster victims, assistance for the disabled, outreach to the elderly and ill, clothing and shelter to the homeless and opportunities for underprivileged children. 82 cents of every dollar The Salvation Army spends is used to support those services in 5,000 communities nationwide. For more information, go to www.salvationarmycarolinas.org.