Salvation Army Helps First Responders In Copiah County After Icy Weather
January 29, 2014 - 1:08 PM EST
LaReeca Rucker
lareeca_rucker@uss.salvationarmy.org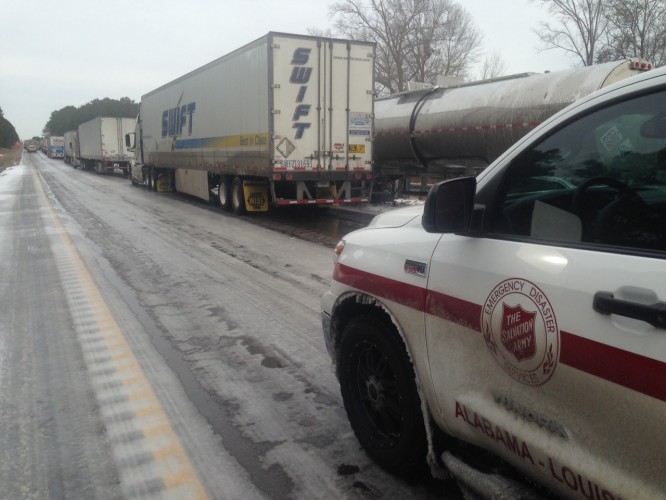 Jackson, MS (Janaury 29, 2014) - The Salvation Army is assisting first responders today in Copiah County where approximately 50 trucks have been stuck along I-55 since yesterday afternoon.
"After last night's winter weather events across the division, many roadways, as expected, were blocked or iced over," said Thad Hicks, emergency disaster services director for The Salvation Army division serving Alabama, Louisiana and Mississippi. "Some motorists and semi truck drivers were trapped along the side of the road."
Hicks said the ice built up, and the trucks couldn't make some of the slight inclines on the roadway. 
"If one or two motorists become stuck, then others would potentially follow behind becoming stuck themselves," Hicks said.
Many are still stuck at this time.
"We were contacted by the Mississippi Emergency Management Agency and asked if we could respond to one of those scenes with food coffee and water," said Hicks. "We are serving along 55 south in the area of the Copiah/Lincoln County line, where we will be most of the day. While we will be stationing ourselves at one of the rest areas, we will also be venturing out to some of the other areas, taking coffee, food and water to those who are stuck."
Hicks said the human body doesn't do very well in extreme cold.  The body can dehydrate quickly and, without heat in the vehicles, hypothermia can set in quickly.
"While we are used to combating hurricanes and tornadoes, the EDS staff of The Salvation Army in the division is adapting quickly to this new ice hazard," he said.
About The Salvation Army: The Salvation Army, an evangelical part of the universal Christian church, has been supporting those in need in His name without discrimination since 1865. Nearly 33 million Americans receive assistance from The Salvation Army each year through providing food for the hungry, relief for disaster victims, assistance for the disabled, outreach to the elderly and ill, clothing, shelter and opportunities for underprivileged children. About 83 cents of every dollar raised is used to support those services in nearly 9,000 communities nationwide. For more information go to http://www.salvationarmyusa.org, call 1-800-SAL-ARMY, or send a check to your local Salvation Army.