The Salvation Army Serves Stranded Bus Passengers
January 29, 2014 - 7:35 PM EST
ALM Divisional EDS Department
(601) 969-6868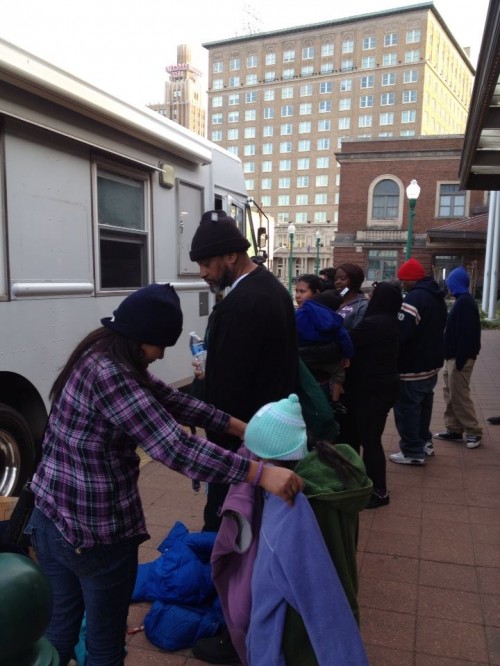 Jackson, MS (January 29, 2014) - The Salvation Army Disaster Services Team from the Jackson, MS Corps responded to the Greyhound Bus Station in Jackson today concerning almost 100 stranded bus passengers, with nowhere to go, and nothing to eat or drink. 
As the state struggles under the weight of ice and snow, some groups were overlooked.  One of these groups was passengers traveling on Greyhound through Jackson.  As the road system in the area became impassable, the bus line decided to postpone and in some cases cancel their routes.  This action left almost 100 people without a place to go during the storm.  Unlike an airport, the terminal at a bus station is rarely outfitted with restaurants and stores.  The individuals moving through had nowhere to go and were forced to stay at the station without bedding or anything to eat.   Divisional Emergency Disaster Services Director, Thad Hicks stated, "Unfortunately, sometimes these small pockets of people get overlooked in a large event, but someone thought to call for help, and The Salvation Army answered."
Jackson responded with its emergency canteen and began serving meals and hot coffee to those onsite.  According to Capt. Ken Chapman, the Corps Officer in Jackson, "Some of these men and women had been there for 2 days."  In addition to the food, Chapman provided everyone a coat, a cap, and sleeping bag.   Chapman added, "We hope that most of these people will get on the road by tonight, but some may be here another day."
The Salvation Army stands committed to give assistance wherever it's needed.
About The Salvation Army: The Salvation Army, an evangelical part of the universal Christian church, has been supporting those in need in His name without discrimination since 1865. Nearly 33 million Americans receive assistance from The Salvation Army each year through providing food for the hungry, relief for disaster victims, assistance for the disabled, outreach to the elderly and ill, clothing, shelter and opportunities for underprivileged children. About 83 cents of every dollar raised is used to support those services in nearly 9,000 communities nationwide.
For more information go to http://www.salvationarmyusa.org, call 1-800-SAL-ARMY, or send a check to your local Salvation Army.