Salvation Army Supports Texas Wildfire Fighters
April 18, 2011 - 1:55 AM EDT
Philip Burn
philip_burn@uss.salvationarmy.org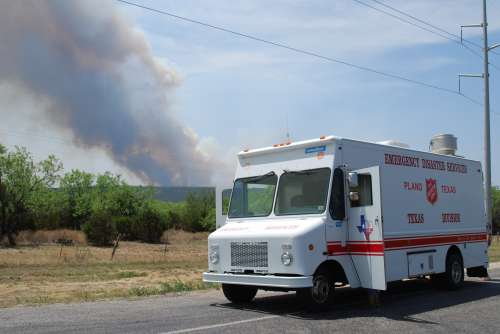 IMPORTANT: CONTINUING UPDATES TO THIS STORY ARE NOW BEING POSTED IN OUR DISASTER NEWSROOM.
Dallas, TX – More than one week after initial deployment, Salvation Army officers, staff and volunteers continue to provide round-the-clock assistance and relief to firefighters, other responders and residents affected by wildfires throughout the State.
On Sunday, April 17, the most concentrated efforts took place in and around the small city of Strawn, TX, located only 90 minutes West of Fort Worth. Salvation Army Disaster Canteens (mobile kitchens) from Dallas, Plano, Waco and Fort Worth have been deployed and staff worked throughout the weekend to provide meals, hydration and spiritual support in Strawn, Palo Pinto and Graford. Volunteers from the nearby Mineral Wells Salvation Army Service Unit assisted the efforts by serving and delivering meals to exhausted responders.
To the South West, in Coke County, Salvation Army disaster teams from Austin, Midland and San Angelo assisted those working to contain another rapidly spreading fire fuelled by the unpredictable, blustery wind and extremely dry conditions. It is reported that more than 500,000 acres have been consumed by about a dozen fires over the last two weeks in Texas.
Since Saturday April 9, The Salvation Army has served more than 6,500 meals, 8,500 drinks and 4,800 snacks at wildfire locations in Texas alone and remain committed to providing relief as long as is needed.
Monetary donations to support The Salvation Army Texas Wildfire Relief can be made by mail to P.O.Box 36607, Dallas, TX 75235, by phone at 1-800-SAL-ARMY or online at www.salvationarmytexas.org For more information about The Salvation Army's disaster response effort, please go to www.Facebook.com/SalvationArmyTexas, www.disaster.salvationarmyusa.org, or www.salvationarmytexas.org.
About The Salvation Army
The Salvation Army, an evangelical part of the universal Christian church established in 1865, has been supporting those in need in His name without discrimination for 129 years in the United States. Nearly 30 million Americans receive assistance from The Salvation Army each year through the broadest array of social services that range from providing food for the hungry, relief for disaster victims, assistance for the disabled, outreach to the elderly and ill, clothing and shelter to the homeless and opportunities for underprivileged children. 82 cents of every dollar spent is used to support those services in 5,000 communities nationwide. For more information, go to www.salvationarmyusa.org.