Disaster Teams Deploy to Meet Immediate Needs in Hampton Roads
October 31, 2012 - 7:32 AM EDT
Matthew Pochily
Matthew_Pochily@uss.salvationarmy.org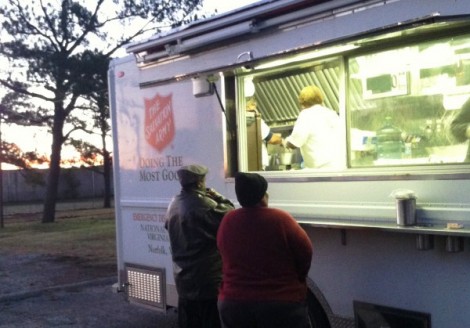 Picture of The Salvation Army Hampton Roads disaster canteen serving breakfast in the Ocean View community.
Hampton Roads, VA (October 30, 2012) – Salvation Army personnel in Hampton Roads are responding to Hurricane Sandy whose winds and water caused property damage and cut electricity for some residents.
On Tuesday, The Salvation Army had two mobile kitchen serving meals, providing material, emotional, and spiritual assistance to those affected in the region.  Thus far in Hampton Roads The Salvation Army has provided over 884 meals, 78 clean-up kits, and shelter to 213 individuals.  Much of this service came on Tuesday in multiple locations in the Ocean View community of Norfolk.
"During timers like this when people are in the greatest need, we want to be there to serve them", said Captain Brett Meredith of The Salvation Army. "Whether it is sharing with them a clean-up kit, a meal, a smile, hug, or a prayer; we want to help people get through the tough times."
On Wednesday, October 31, a Salvation Army mobile kitchen will be positioned at the intersection of Pleasant Avenue and 20th Bay in Norfolk to serve breakfast beginning at 6:30am and concluding at 8:30am.  Locations for lunch service will be determined at the conclusion of breakfast service.  Dinner service on Wednesday is not expected at this time but is still being considered. 
Relief efforts will extend throughout the impacted region. In the short-term aftermath of the storm, Salvation Army officers and staff will continue to focus on immediate needs providing food, hydration, and emotional and spiritual care to impacted individuals and families.
For a real-time update on the location of mobile canteens interested parties can follow The Salvation Army of Hampton Roads on Twitter (@salarmyhr).
The Salvation Army asks people who want to help those affected by this disaster to visit www.salvationarmyusa.org or call 1-800-SAL-ARMY (1-800-725-2769). 
Donors may also contribute $10 via their phone bill by text messaging the word STORM to 80888, and confirming the donation with the word, "Yes."*
Checks may be made out to The Salvation Army Disaster Services Center, PO BOX 1959 Atlanta, GA 30301. Please designate "2012 Hurricane Season" on all checks.
At this point, in-kind donations, such as used clothing and used furniture, are not being accepted for hurricane relief. However, these items are vital to supporting the day-to-day work of your local Salvation Army. Please consider giving these items to your local Salvation Army Family Store or dial 1-800-SA-TRUCK (1-800-728-7825).
For more information on The Salvation Army's preparation and response to Hurricane Sandy, please visit http://blog.salvationarmyusa.org/, www.facebook.com/salvationarmyusa or www.twitter.com/salvationarmyus.
###
About The Salvation Army
The Salvation Army, an evangelical part of the universal Christian church established in London in 1865, has been supporting those in need in His name without discrimination for more than 130 years in the United States. Nearly 30 million Americans receive assistance from The Salvation Army each year through the broadest array of social services that range from providing food for the hungry, relief for disaster victims, assistance for the disabled, outreach to the elderly and ill, clothing and shelter to the homeless and opportunities for underprivileged children. 82 cents of every dollar The Salvation Army spends is used to support those services in 5,000 communities nationwide. For more information, go to www.salvationarmyusa.org.
*A one-time donation of $10 will be added to your mobile phone bill or deducted from your prepaid balance. Message & Data Rates May Apply. All charges are billed by and payable to your mobile service provider. Service is available on Verizon Wireless, AT&T, Sprint and TMobile. By participating you certify that you agree to the terms and conditions, that you are 18 yrs. or older, or have parental permission, and have authorization from the account holder. Donations are collected for the benefit of The Salvation Army by the Innovative Giving Foundation and subject to the terms found at igfn.org/t. Privacy policy: igfn.org/p. Text STOP to 80888 to stop; Text HELP to 80888 for help.