Salvation Army Dedicates Three New Canteens in Missouri
February 01, 2013 - 12:00 AM EST

http://stlsalvationarmy.org/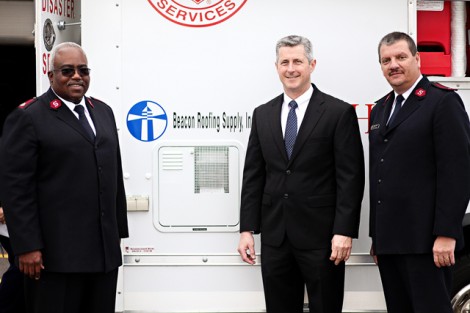 St. Louis, MO (January 29, 2012) - Thanks to the generous support of partners United Way of Greater St. Louis and Beacon Roofing Supply, Inc., The Salvation Army was able to purchase the canteens to better serve communities afflicted with disaster. The canteens will replace older models in St. Louis, Cape Girardeau, and Joplin.
Major Lonneal Richardson, left, stands with Bill Sarvis of Beacon Roofing Supply, Inc., and Lieutenant James Curry, Joplin. Beacon Roofing generously donated $100,000 toward the purchase of the Joplin canteen.
To celebrate the addition of the canteens, The Salvation Army hosted a dedication service today at Midland Division Headquarters. Representatives from Joplin, The Salvation Army, United Way, and Beacon Roofing were on-hand for remarks, as well as St. Louis Fire Department Chief Dennis Jenkerson, Advisory Board Chairman Mark Abels, and Divisional Commander Major Lonneal Richardson.
Gary Dollar, United Way of Greater St. Louis, addressed the crowd during the dedication. United Way generously donated $50,000 toward the purchase of the St. Louis canteen.
The Salvation Army's canteens help serve more than 200,000 meals, drinks, and snacks each year to those who are hungry. In addition to responding to disasters such as severe storms and tornados, the canteens are regularly used to provide meals, water, and clothing to St. Louis' homeless community.
The purchase of the canteens was made possible by a $100,000 donation from Beacon Roofing, $50,000 donation from United Way, and the community's generous support of The Salvation Army.