Storm Telethon Raises Nearly $200,000 for Arkansas Tornado Relief
May 02, 2014 - 9:52 PM EDT
Cynthia (Cindy) Fuller
cindy_fuller@uss.salvationarmy.org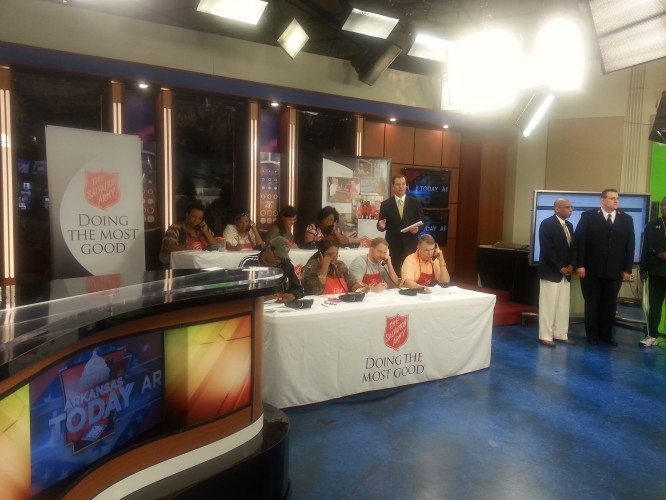 Little Rock, AR - On Tuesday, April 29, KARK 4 (KARK) and FOX16 (KLRT) partnered with The Salvation Army to conduct a telethon to raise money for the victims of the recent tornados that devastated many Arkansans. The telethon raised an official total of $197,360.  The Arkansas Storm Team Relief and Recovery Telethon was featured on each newscast on both KARK 4 and FOX16 from 5AM until 10:30PM. Fifty-six Salvation Army volunteers answered calls and took donations.
Salvation Army Emergency Disaster Services (EDS) teams immediately responded to the storms and provided food, hydration, and emotional and spiritual care to survivors and first responders. Thank you to the generous Arkansans who helped make this event so successful!
The community of Central Arkansas suffered a tremendous loss following last Sunday's storms .  However, they continue to show their strength and resilience in beginning the healing process as well. We thank all for supporting the efforts of The Salvation Army and many other agencies as the focus turns to providing the resources necessary to recover.
Contact:  Cindy Fuller, Mobile: 405/830/6549
E-mail: cindy_fuller@uss.salvationarmy.org
Office:  405/254/1156
About The Salvation Army
The Salvation Army, an evangelical part of the universal Christian church established in 1865, has been supporting those in need in His name without discrimination for 130 years in the United States. Nearly 30 million Americans receive assistance from The Salvation Army each year through the broadest array of social services that range from providing food for the hungry, relief for disaster victims, assistance for the disabled, outreach to the elderly and ill, clothing and shelter to the homeless and opportunities for underprivileged children. 82 cents of every dollar spent is used to carry out those services in 5,000 communities nationwide. For more information, go to www.salvationarmyusa.org.