The Salvation Army Commemorates the 10th Anniversary of September 11th
September 07, 2011 - 1:30 PM EDT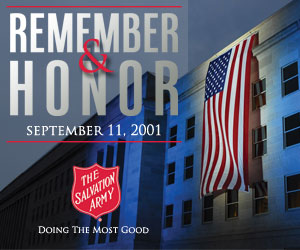 Watch a 5-part video series highlighting The Salvation Army's response to the 9/11 terror attacks on our YouTube Channel www.youtube.com/salarmyeds. A new video will be posted every day this week!
Alexandria, VA (September 7, 2011) – The Salvation Army will host a variety of events, including a support center for members of the 9/11 community in New York City during the 10th anniversary of September 11th. The Salvation Army will remember and honor the victims and heroes of the terrorist attacks and their loved ones through memorial services and events in New York City and Washington, DC, as well as in other cities across the country. Community members in these cities and others are invited to attend the ceremonies and 9/11 Day of Service activities with The Salvation Army. Events include memorial services, remembrance ceremonies, candlelight vigils, parades and food drives.
In partnership with the Mental Health Association of New York City, The Salvation Army will host a support center for members of the 9/11 community starting at 7:30am EST. 9/11 survivors, displaced residents, first responders and volunteers from all agencies, as well as families of victims not attending the World Trade Center ceremony are invited. The "Family Support Center" will feature live streaming of the national memorial service in a press-free environment. Refreshments will be served and supportive services, including child care, mental-health services and massage therapy will be available to all who attend.
"In New York City and across the country, today is about honoring the victims of the tragic terrorist attacks that impacted an entire nation ten years ago," said Major George Hood, National Community Relations Secretary for The Salvation Army. "Through a variety of partnerships, ceremonies and community activities across the country, The Salvation Army is welcoming the heroes, families and community members of 9/11 through its doors, to not only remember, but to look forward beyond the loss."
Events at the Centennial Memorial Temple in New York City will be open to the public and feature The Salvation Army New York Staff Band and guest speakers including Dr. Charles Stanley, senior pastor of the First Baptist Church Atlanta in Atlanta, GA, and founder and president of In Touch Ministries.
The Salvation Army in Washington, DC will host a Disaster Response Volunteer Training on September 10 in Fairfax, VA. The Army will also participate in the Mayor's "Tribute to Service – Honoring the Victims, Survivors, and Heroes of 9/11" at Freedom Plaza from 1- 4:00 pm.The memorial serves as an opportunity for members of the community to give back to their neighbors as they did following the attacks of 9/11 ten years ago.
"The American people have come a long way since September 11. People emerged from the tragedy a more unified nation more willing to help their neighbors in times of great need," said Major Hood. "On this National Day of Service, The Salvation Army will carry on that tradition and continue to help people who are less fortunate."
Salvation Army locations across the country will take part in various programs and events to commemorate the 10th anniversary. Other cities in which The Salvation Army will honor the memory of the victims, survivors and heroes of 9/11 include:
Albert Lea, MN:The Salvation Army will participate in events throughout the day and a remembrance ceremony at the Moose Lodgeby the Legion Color Guard at 5:30pm CST.
Anchorage, AK:The Anchorage Salvation Army Corps is planning a service of remembrance on September 11 at 6:00pm AKDT.
Denver, CO:Salvation Army Emergency Disaster Service (EDS) volunteers will march in the 9/11 remembrance parade in Denver with the local FEMA partners, Colorado Governor John Hickenlooper and Mayor Michael B. Hancock.
Fairfax, VA: Salvation Army personnel will conduct a Disaster Response Training for volunteers and staff on 9/10/11 to enhance preparedness if called into future service.
Grand Rapids, MI:The Salvation Army will host a day-long remembrance in partnership with the Boy Scouts and other local, state and national organizations for a series of family events at the Gerald R. Ford museum and the Cathedral of Saint Andrew.
Kenai, AK:The Kenai Ministerial Alliance is coordinating a moment of silence for all member churches at 11:10am AKDT. The Salvation Army Corps Community Center in Kenai will show 9/11 videos before and after.
Los Angeles, CA:The Salvation Army will conduct a 9/11 Remembrance Service at the Corps Center in the afternoon and will host a Ceremony of Remembrance & Appreciation at Rose Hills Memorial Park, at 7pm PST.
Minneapolis, MN:The Salvation Army will participate in the "Mass of Thanksgiving & Remembrance" at the Cathedral of Saint Paul starting at 4:30pm CST, with a civic commemoration and Memorial Mass at 5:00pm CST.
Omaha, NE:The Salvation Army is hosting a 9/11 Tenth Anniversary Remembrance Service with several special guests, Mayor Jim Suttle, firefighters and law enforcement from 10:30 – 11:00 am (CST) at the Army's Ray & Joan Kroc Corps Community Center. Donations to The Salvation Army Heartland Family Fund will be accepted, and all proceeds benefit local military families in Nebraska and Western Iowa.
Rochester, MN:Mayor Ardell Bredewill honor The Salvation Army with a special award for their services at 12pm CST.
Sacramento, CA:The Salvation Army will partner with The Fish (Christian Radio) and Fox 40 (affiliate) for a shoe drive to benefit clients of the Army's rehabilitation centers.
Salt Lake City, UT:The Salvation Army will host an appreciation event for neighborhood firefighters and police officers.
Santa Rosa, CA:The Santa Rosa Corps will host a Food Drive and Root Beer Float Social at the Oakmont retirement from noon to 3pm PST on 9/11. The Army is also working with local churches on a one day food drive that day.
San Francisco, CA:The Salvation Army will participate in a morning prayer at Crissy Field in Golden Gate National Recreation Area, hosted by the San Francisco Interfaith Council at 5:47am PST, and a remembrance at Golden Gate Park with the San Francisco Interfaith Council and the San Francisco Opera at 1:30pm. The Opera will perform Mozart's Requiem, with readings of prayers and passages between each piece.
Washington, DC: The Salvation Army will be greeting and serving donuts and beverages to survivors and victims' families attending the Pentagon's 9/11 private memorial service. Salvation Army personnel will also participate in the Mayor's "Tribute to Service: Honoring Victims, Survivors, and Heroes of 9/11" at Freedom Plaza.
Wichita Falls, TX:The Salvation Army will dedicate its morning Holiness Meeting in honor of those who lost loved ones on 9/11. The service will include a candlelight vigil.
The Salvation Army was the first relief agency to reach Ground Zero on that fateful day, reporting within a half-hour following the first plane crash at the World Trade Center site. Additionally, Salvation Army personnel played important roles in response activities at the Pentagon and in Shanksville, Pennsylvania.
More than 39,000 Salvation Army officers, volunteers, and staff served 3.2 million meals during the months that followed. Perhaps most importantly, Salvation Army personnel were able to provide emotional and spiritual counseling and support to thousands of rescue and recovery-personnel. In total, $90 million was spent serving first responders, survivors, and affected families through food, clothing, financial assistance, and other crucial social service programs.
About The Salvation Army
The Salvation Army, an evangelical part of the universal Christian church established in London in 1865, has been supporting those in need in His name without discrimination for more than 130 years in the United States. Nearly 30 million Americans receive assistance from The Salvation Army each year through the broadest array of social services that range from providing food for the hungry, relief for disaster victims, assistance for the disabled, outreach to the elderly and ill, clothing and shelter to the homeless and opportunities for underprivileged children. 82 cents of every dollar The Salvation Army spends is used to support those services in 5,000 communities nationwide. For more information, go to www.salvationarmyusa.org.