Georgia Salvation Army Serves Augusta Shelters & Seniors
February 14, 2014 - 4:22 PM EST
John Zanders
john_zanders@uss.salvationarmy.org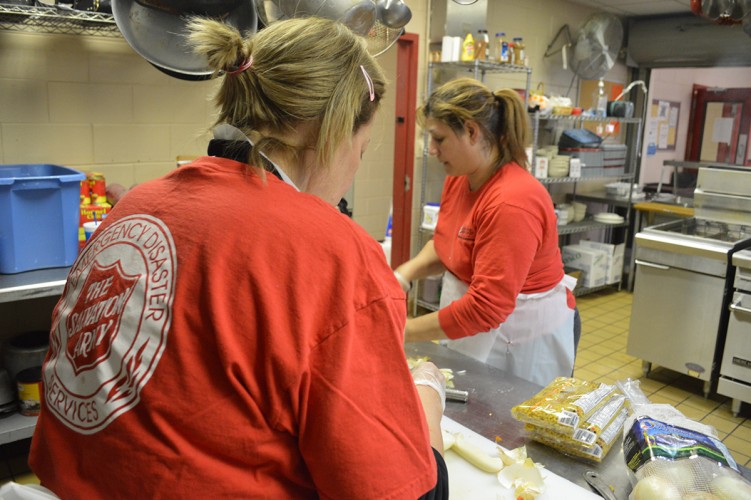 Augusta, GA (February 14, 2014) –The Salvation Army is preparing to serve thousands of meals to men, women and children who are without power, including those in local shelters and a few senior housing communities. Today, The Salvation Army announced that eight Salvation Army Emergency Canteens, from various parts of the state, will join the local unit to provide hot food, snacks and drinks.
"Our mission is to offer some relief to those in our area who are in need of a hot meal," states Major Tony Perez, Augusta Area Commander. Canteens will arrive in Augusta today, February 14, and will begin serving breakfast and supper at the following locations:
Columbia County Shelter Patriots Park 5545 Columbia Road Grovetown, GA
Richmond County Shelter 2920 Mike Padgett Hwy Augusta, GA 30906 (Note: This shelter replaces the shelter which was at the May Park Community Center, 622 4th St, Augusta, GA 30901, which is now closed)
Legacy Walton Oaks 602 Fairhope Street Augusta, GA
S.G. Noble Garden of Hope Apartments 200 Magnolia Street Augusta, GA
Walton Ridge Apartments 3550 Windsor Spring Road Augusta, GA
It is possible that other shelter locations and communities in need will be added to the list as need is assessed. The Salvation Army is expecting to serve over 1200 meals per day and will continue until service is no longer needed.
The Salvation Army of Augusta will continue to offer emergency shelter to homeless individuals and families seeking refuge from the cold at the Center of Hope, located at 1384 Greene Street. Due to capacity limitations, people are encouraged to first seek shelter at one of the community shelters listed above.
The Salvation Army is grateful for any monetary donations to help offset the cost of response during Winter Storm Pax. Please donate at 1-800-SAL-ARMY, or www.salvationarmyusa.org.
For more information on this disaster, and how you can help, please go to www.disaster.salvationarmyusa.org.
If you like to donate bottled water or food for those affected by the storm, you may do so at our Center of Hope (1384 Greene Street).
# # #
About The Salvation Army The Salvation Army, an evangelical part of the universal Christian church established in London in 1865, has been supporting those in need in His name without discrimination for 130 years in the United States. Nearly 30 million Americans receive assistance from The Salvation Army each year through the broadest array of social services that range from providing food for the hungry, relief for disaster victims, assistance for the disabled, outreach to the elderly and ill, clothing and shelter to the homeless and opportunities for underprivileged children. 82 cents of every dollar The Salvation Army spends is used to support those services in 5,000 communities nationwide. For more information, go to www.salvationarmyaugusta.org.
Prepared by:
Beth Bargeron - The Salvation Army of the Greater Augusta Area, Marketing and PR Director
Phone:  (706) 421-3047