Georgia Salvation Army Aids Homeless and First Responders During Winter Storm
February 12, 2014 - 2:30 PM EST
John Zanders
john_zanders@uss.salvationarmy.org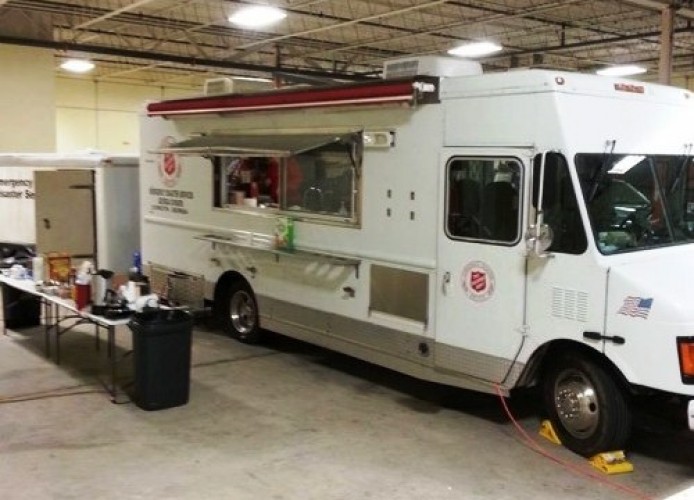 Atlanta, GA (February 12, 2014 )- The State of Georgia has been declared a "State of Emergency" with the storms projected to continue until the morning hours of Thursday. The Salvation Army of Metro Atlanta and the Georgia Division served throughout the day on Tuesday providing 300 Meals, 305 Drinks, and 231 snacks to emergency management center personnel, first responders and those needing emergency shelter. Services will be continuing Wednesday, February 12, 2014.
Salvation Army canteens were dispatched Tuesday and Wednesday to the Fulton County Emergency Management Center in downtown Atlanta and the 911 Call Center and County EMA in Greensboro, GA to offer relief in the form of food and prayer to emergency management employees and first responders working around the clock to ensure Georgia residents remained safe during the storm.
The Salvation Army operates 15 Shelters throughout the State of Georgia.With the catestophic weather each of the shelters accepted 87 additional individuals needing an escape from the freezing temperatures. 35 Officers, Staff and Volunteers provided 210 hours of service, 25 comfort kits, 23 blankets and clothing to 87 individuals needing emergency shelter in addition to those already residing in Salvation Army Shelters. "Theforecast is indicating that we are just in the eye of the storm with 2-7 inches of snow to accumulate north of Interstate 20. We will continue to serve as conditions warrant our services," says Major Jim Smith, Georgia Divisional Disaster Service Director.
The Salvation Army also continues to offer emergency shelter to homeless individuals and families seeking refuge from the cold. The Red Shield shelter located at 400 Luckie Street in downtown Atlanta has 324 beds in its overnight shelter and provided 54 additional mats for individuals and families who entered through the emergency cold weather program. When temperatures drop below 40 degrees, The Salvation Army opens its emergency cold weather program to anyone who needs a warm place to sleep.
The Salvation Army Georgia Division also provided emergency lodging for 10 homeless individuals in Rome and 23 homeless individuals in Griffin. For other Salvation Army shelters located throughout Georgia, visit www.salvationarmygeorgia.org to find your nearest location.
About The Salvation Army of Metro Atlanta The Salvation Army, an evangelical part of the universal Christian church established in 1865, has been supporting those in need in His name without discrimination for 130 years in the United States. Nearly 30 million Americans receive assistancefrom The Salvation Army each year through the broadest array of social services that range from providing food for the hungry, relief for disaster victims, assistance for the disabled, outreach to the elderly and ill, clothing and shelter to the homeless and opportunities for underprivileged children. 82 cents of every dollar spent is used to carry out thoseservices in 5,000 communities nationwide. For more information, go to www.salvationarmyatlanta.org. Like us on Facebook at www.facebook.com/thesalvationarmymetro atlanta or follow us on Twitter @SalvationArmyA
Report by: Tamara Stinson, Communications Director Metro Atlanta
Phone:404-550-4537
Email: Tamara_Stinson@uss.salvationarmy.org