Kansas City Chiefs Help Salvation Army Tackle Relief Efforts In Joplin
June 24, 2011 - 11:24 AM EDT
William Becker
William_becker@usc.salvationarmy.org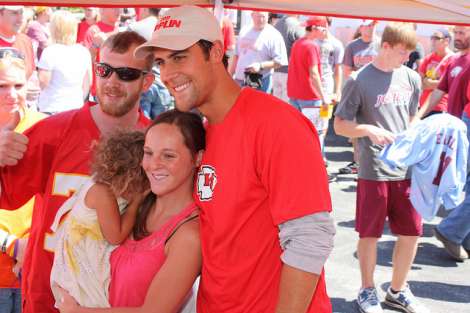 Photo: Matt Cassel along with eight other KC Chiefs participated in an event lifting the spirits of Joplin residents. The Salvation Army took part in the event on June 23 by providing beverages and snacks to those waiting in line.
"We could not have had a better partner than The Salvation Army"
Kansas City Chiefs quarterback Matt Cassel, who leads his NFL team during the season, arrived in Joplin on June 23 and lead a group of more than 130 players, coaches and staff including General Manager Scott Pioli and President Mark Donovan in relief efforts.
As part of those efforts, team officials took part in an early morning cleanup session with AmeriCorps, followed by a tour of the impacted area and then returned to greet fans at a Chiefs Fan Zone that had been set-up in a parking lot. The Zone featured inflatable play areas and games for kids, and despite the NFL lockout, players, coaches and executives sat together signing autographs and interacting with community members.
As some of his teammates were signing autographs in the Fan Zone, Kansas City punter Dustin Colquitt assisted a Salvation Army canteen (mobile kitchen) in the community by delivering bottled water and other beverages to those in the impacted area.
However, this has not been just a one day event for the Chiefs.
"This just continues our multi-step outreach efforts to help our neighbors in Joplin," explained Chuck Castellano, community relations manager for the Chiefs. "The whole organization really got behind this from the very beginning and is very committed to helping this area for some time to come."
Just days after the EF-5 tornado ripped through the town, the Chiefs hosted a two-day supply drive at Arrowhead Stadium. Fans generously filled semitrailers full of water bottles and other supplies. Two full truckloads of water and a box truck full of supplies were then delivered to The Salvation Army.
"We could not have had a better partner than The Salvation Army," said Castellano. "We knew that The Salvation Army would make the highest possible impact with the donated items and make sure those in need got what they needed."
Monetary donations:
The best way to help Joplin now is to call 1-800-SAL-ARMYor go to www.SalvationArmyUSA.org to make a donation by credit card. Checks may be mailed to The Salvation Army, PO Box 21787, St. Louis, MO 63109-0787. Please designate the gift "Joplin Tornado." Cell phone users may also text the wordJOPLIN to 80888 to make a $10 donation charged to their cell phone bill (text and/or messaging charges may apply).
Donations of used Household Goods and Clothing:
Due to the high expense and time demands associated with delivering your gently-used household goods and clothing (gifts-in-kind), The Salvation cannot guarantee that any individual gifts-in-kind donated now will be sent to the disaster area. In time of disaster, our stores fill these needs from existing, pre-sorted stock. By continuing to donate gently-used household goods to your local Salvation Army store, you not only help your community, you help us prepare for future disaster relief needs. To find your nearest drop-off location, please go to www.satruck.org.
About The Salvation Army:
The Salvation Army, an evangelical part of the universal Christian church, has been supporting those in need in His name without discrimination since 1865. Nearly 30 million Americans receive assistance from The Salvation Army each year through the broadest array of social services that range from providing food for the hungry, relief for disaster victims, assistance for the disabled, outreach to the elderly and ill, clothing and shelter to the homeless and opportunities for underprivileged children. About 82 cents of every dollar raised is used to support those services in nearly 5,000 communities nationwide. For more information, go to www.salvationarmyusa.org.
###
Bulletin Date: Friday, June 24, 2011 | 9:36:47 AM CDT
Source: William Becker, Public Relations Director | The Salvation Army, Midland DHQ St
Louis
William_becker@usc.salvationarmy.org | 314.646.3017- Office 314.603.1095- Mobile
More photos of this and other Salvation Army Joplin Relief efforts can be found on Flickr at http://www.flickr.com/photos/salarmystl.