Salvation Army Feeds Over 125 Meals to Tornado Survivors and First Responders
January 31, 2013 - 10:40 AM EST
Laura Stafford
laura_stafford@uss.salvationarmy.org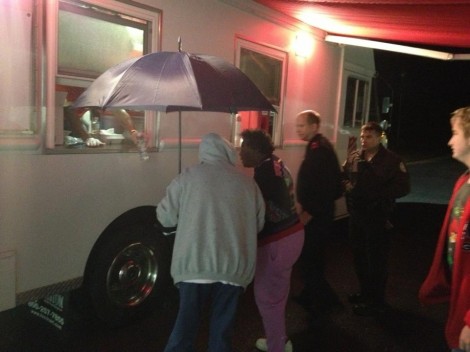 Contact:
Laura Stafford
PIO, The Salvation Army of Georgia
404.550.3716
Laura_stafford@uss.salvationarmy.org
 
Salvation Army Feeds Over 125 Meals to Tornado Survivors and First Responders
Mobile Feeding Units Still Serving in Gordon and Bartow Counties
ATLANTA, GA (January 31, 2013) – As the storm died down, The Salvation Army immediately responded to tornado and storm survivors and first responders in Calhoun and Adairsville by providing 125 meals, 100 drinks, 42 cups of coffee, 35 snacks and four with emotional and spiritual care.
Over the next 24-48 hours, The Salvation Army's immediate response is still mass feeding and providing emotional and spiritual care. We will be re-assessing today and have two more canteens on standby, prepared and ready to serve.
The Salvation Army has mobile feeding units (canteen) at the following locations:
• Calhoun, Gordon County (Gordon County EOC- 400 Bellwood Rd.) - There is one canteen, serving mainly first responders, which will be providing breakfast, lunch and dinner today. Last night, The Salvation Army provided 30 meals, 58 drinks, 35 snacks and four with emotional and spiritual care in Gordon County.
• Adairsville, Bartow County (Red Cross Shelter-163 Manning Mill Rd.) – There is one canteen prepared to feed over 100 meals to victims and first responders. Last night, The Salvation Army provided 95 meals, 42 bottles of water and 42 cups of coffee.
"As The Salvation Army is assessing the damage in Bartow and Gordon County, our first and foremost response is to make sure that the storm survivors and first responders' basic needs are met," says Major Jim Smith, Emergency Disaster Services Coordinator for The Salvation Army of Georgia. "We are working tirelessly to make sure they are fed, given something to drink and prayed for."
The Salvation Army asks people who want to help those affected by this disaster to visit www.salvationarmygeorgia.org or call 1-800-SAL-ARMY. At this point, in-kind donations, such as used clothing and used furniture, are not being accepted for tornado/storm relief. However, these items are vital to supporting the day-to-day work of your local Salvation Army. Please consider giving these items to your local Salvation Army Family.
For more information on The Salvation Army's preparation and response the tornadoes and storms, please visit www.salvationarmygeorgia.org, https://www.facebook.com/thesalvationarmygeorgia or https://twitter.com/tsageorgia. 
###
About The Salvation Army
The Salvation Army, an evangelical part of the universal Christian church established in London in 1865, has been supporting those in need in His name without discrimination for more than 130 years in the United States. Nearly 30 million Americans receive assistance from The Salvation Army each year through the broadest array of social services that range from providing food for the hungry, relief for disaster victims, assistance for the disabled, outreach to the elderly and ill, clothing and shelter to the homeless and opportunities for underprivileged children. 82 cents of every dollar The Salvation Army spends is used to support those services in 5,000 communities nationwide. For more information, go to www.salvationarmygeorgia.org.