Salvation Army Combats Winter Storms in Pennsylvania
February 11, 2014 - 3:06 PM EST
Karla Tejada
karla.tejada@use.salvationarmy.org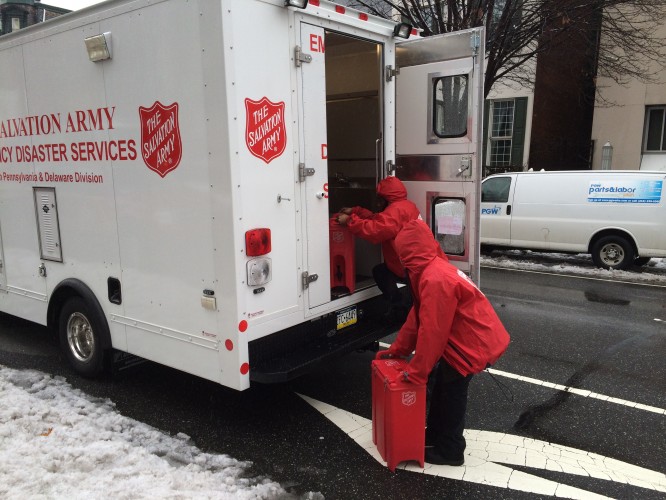 Philadelphia, PA (February 11, 214) - This will long be remembered as a winter filled with snow, ice, and really cold temperatures.  For the past six days, The Salvation Army disaster services team in the Eastern PA Division, led by Bob Myers, Divisional EDS Director, has been serving thousands of those who lost power from severe weather which created power outages for more than 750K people, with some estimates closer to 1M to 1.5M.  Seven of the hardest hit counties included York, Lancaster, Chester, Montgomery, Bucks, Delaware and Philadelphia.  Many roads and highways across the affected region  were closed or limited in access due to downed trees and power lines.
Complicating matters was a major gas main fire in the City of Philadelphia.  The Philadelphia EDS team was on the scene supporting First responder personnel, gas crews, and evacuees.  Two shelters were established and the EDS Team provided lunch on scene and at shelter locations.  We are hopeful that this incident will conclude before the dinner hour. 
By day 2, operations ramped up significantly, as the Eastern PA EDS team had opened warming centers and was asked to support feeding operations at the Montgomery County Red Cross shelter at Hatboro-Horsham High School.  The team also supported a State-run shelter at West Chester University. Demonstrating the strength of TSA, the EDS Team collaborated with the Lancaster Corps in order to produce the meals.  The Corps provided additional personnel to support that feeding operations.
The EDS Team also supported the West Chester Corps feeding operation, as power outages in that community made it impossible to continue this important service.  Throughout the affected area, EDS deployed generators to corps and corps officer locations who were without power. 
One of the truly great aspects of this event was the collaborative effort with the EDS Team, local Corps, American Red Cross, West Chester University and emergency management.  As of February 11th, the Salvation Army had served:
2,481 - Meals Served
1,997 - Hot Drinks
930 - Bottled/Cold Drinks
330 - Blankets
170 - MRE's (meals ready to eat)
375 - Snacks